Starpuck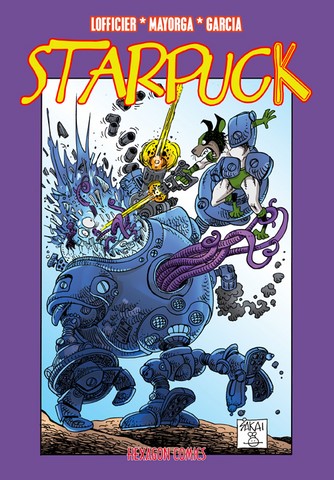 STARPUCK
THE SECRET ORIGINS OF STARPUCK (story: J.-M. Lofficier; art: Eduardo Garcia)
JALEB'S QUEST (story: J.-M. Lofficier; art: Gabriel Mayorga)
THE DASTARDLY MENACE OF DOCTOR.MORBYDE (story: J.-M. Lofficier; art: Gabriel Mayorga)
Meet Starpuck, the courageous canine member of the Galactic Guardians of the Towers, the same cosmic corps to which belong Starlock and Starcyb of Strangers fame.
Learn of the secret origins of this dogged defender when he was only Inspector Pucktoon of the D.O.O.G. Patrol on the far off planet Bone Zone…
See Starpuck team up with Jaleb the Telepath to defeat a monstrous space vampire, and with Marianne, the Guardian of the Republic's sidekick, to challenge the dastardly menace of Dr. Morbyde!
Three barking mad adventures of the pluckiest pooch of the galaxy illutrated by Gabriel Mayorga and Eduardo Garcia.
COVER BY STAN SAKAI.

7x10 squarebound comic, 48 pages b&w
ISBN-13: 978-1-64932-075-9 - US$9.95