Ivan Karine
History
In 17th-century Russia, populated by Tartars, Poles, Turks and Cossacks, a man rises to fight for justice and protect the widow and the orphan: Kotchevoi Ivan Karine, captain of the Cossacks of Artemov. Accompanied by the gigantic Piotr Mironov and the young and resourceful Paul Gavrile, Ivan Karine undertakes special mission after a special mission, each more dangerous than the other, in the service of Tsar Peter the Great.
Ivan Karine is the ancestor of Captain Ukraine.
On the alternate world of Mosaic-Earth, Ivan Karine is a member of the Freeshooters.
French Reprints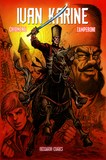 IVAN KARINE
Dessins : Vincenzo Chiomenti
1. Les Feux de la Victoire
2. Les Diables d'Azov
3. Une Partie serrée
4. On ne passe plus sur le Dom
5. Le Bouffon du Tsar
6. Sabres et Canons
7. Les Derniers Coups
8. Le Complot du Kremlin
9. Carnaval à Venise
10. Le Traître
11. Fumée sur la plaine
12. Une Armée pour le Tzar
13. A mains nues
14. Les Loups de St Petersbourg