Thunderbolt Agency
History
Two disillusioned former agents, one FBI, the other MI5, start a "FRIEND IN NEED" helpline to "help the little guy" and become the "odd couple" of crime fighting.
JAMES THUNDER is British and was once a top analyst for MI5. He resigned because he eventually grew tired that his job did not help the "man in the street" as it should. He quickly made a fortune and teamed up with Mark Bolt to start the "FRIEND IN NEED" helpline. He is the brains of the operation and a wizard with computers. He is very British upper class, idolizes Sherlock Holmes, wears a moustache, smokes a pipe, etc. He drives an Alfa Romeo Spyder and dislikes guns while being a skilled marksman.
MARK BOLT comes from an Oil Tycoon family in Oklahoma. He joined the FBI to help people, but soon found himself frustrated. After his father passed away leaving him a fortune, he resigned to start the THUNDERBOLT AGENCY with James whom he had met during a coordinated US/UK investigation, He is smart, resourceful, and athletic, fancies himself a ladies' man, wears "loud" ties , likes to play country bumpkin but is more sophisticated than it seems. His favorite weapon is a colt cobra and he drives a vintage mustang. He is the muscle. He is also Archie Bolt's brother.
French Reprints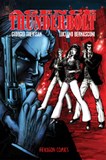 L'AGENCE THUNDERBOLT
1. Reviens, vieux birdie
2. Quelque part à Brooklyn
3. Vivre Libre
4. Saut dans le vide
5. Ennemis comme avant
6. David et l'Ours
7. Jamaica Bay
8. Racket à Jay Street
9. Travail d'Artiste
10. Les Héros de Central Park