Tales of the HexagonVerse #1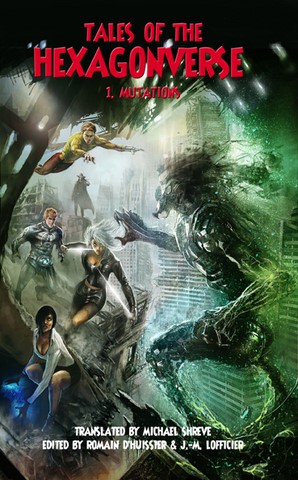 NOT A COMIC BOOK, BUT AN EXCITING COLLECTION OF PROSE STORIES!

TALES OF THE HEXAGONVERSE #1: MUTATIONS
short story collection edited by Romain d'Huissier & J.-M. Lofficier; translated by Michael Shreve.
Stories by Cédric Burgaud, Nelly Chadour, Fabien Clavel, Tepthida Hay, Julien Heylbroeck, Romain d'Huissier, Jean-Marc Lainé, Jean-Marc & Randy Lofficier, Ghislain Morel, Alex Nikolavitch, Yohan Odivart, Frank Schildiner and Krystoff Valla.
cover by Amar Djouad.
Since the dawn of time, tales about larger-than-life heroes have fascinated humanity.
The powerful Bronze Gladiator goes after a ring of child-kidnappers... Young Morgane matches wits with Robin Goodfellow… Prince Kabur of Hyperborea rids a dying city of the demons which infest it… The Man of Brass faces an incomplete, god-like entity… Sibilla investigates a haunted penthouse in Tribeca… The two Dark Flyers team up against a deadly crime cartel… Plus Homicron, Count Saint-Germain, Kit Kappa, Ozark, Stormshadow and more…
Hexagon Comics is one of the oldest French comics universes, with origins going back to the 1950s. Reinvented and modernized in the early 2000s, some of its best and most original characters are featured in this collection that brings together the talents of 14 French and American sci-fi authors.
Contents:
Introduction by Romain d'Huissier
Cedric Burgaud: Mutations (starring The Bronze Gladiator)
Nelly Chadour: A Fairy's Night Dream (starring Morgane)
Fabien Clavel: Who Will Take Care of Rita Tower? (starring Homicron)
Tepthida Hay: The Cult of the Nautilus (starring The Five-Pointed Star)
Julien Heylbroeck: A Wedding in Olyazabad (starring Kabur)
Romain d'Huissier: The Incomplete God (starring Jeff Sullivan)
Jean-Marc Lainé: The Waste Land (starring Ozark)
Jean-Marc & Randy Lofficier: Sibilla in Tribeca (starring Sibilla)
Ghislain Morel: C.O.L.M. (starring The Dark Flyer)
Alex Nikolavitch: The Return of Apophis (starring Ben Leonard)
Yohan Odivart: The Man Who Couldn't Die (starring Count Saint-Germain)
Frank Schildiner: The Wanderer's Nightsong (starring Stormshadow)
Krystoff Valla: Every Journey Begins with a Single Step (starring Kit Kappa)
About the Authors.

US$ 20.95 /GBP 16.99
5x8 tpb, 244 pages
ISBN-13: 978-1-61227-921-3