Galton & Trumbo
History
Two generations of NYPD officers.

Robert Galton and Lewis Trumbo patrolled the streets during the 1980s. Then Lewis retired while Robert went on to become a ranking officer in the NYPD. But their respective sons, Patrick Galton and Mike Trumbo, are now on the force too, Patrick as a sergeant and Mike as a detective.

The older Galton and young Trumbo have recently teamed up with Sibilla and fought Don Calvino's mob.
French Reprints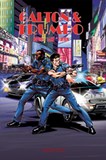 which includes the new adventures of the younger generation.
GALTON & TRUMBO:
1. Galton et Trumbo
2. L'Ange exterminateur
3. Un Témoin Gênant
4. La Fièvre bleue
5. La Veuve
6. La Victime a disparu
7. $100.000 sur le Ring
8. En Représailles
9. Tempête sur Brooklyn
10. Mission spéciale

GALTON & TRUMBO (NLLE. SÉRIE):
1. Etat de Siege
2. Quand nos Aînés n'y seront plus
3. Votre arme et votre insigne
4. Les péchés des pères