Ace Brigade
History
The international "Ace Brigade" is a special Interpol team of top-notch operatives. It is headquartered in Paris and was created at the prompting of Interpol during the 1980s as a special executive task force to fight international drug traffickers and terrorist organizations. It is comprised of top members from local police forces who can be, at a moment's notice, detached from their regular units to become part of the Brigade. They are free to refuse the assignment, but few ever do, for the prestige associated with service with the Brigade is considerable. The Ace Brigade is currently managed by Commander Olivier Pax assisted by agents Joseph "Jos" Gavro and Albert "Kong" Roc. The Brigade recently assisted Phenix during her stay in Paris.
French Reprints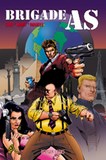 Episodes:
1. Brigade As
2. Contre-Attaque
3. Le Forcat
4. Rendez-vous à Hong Kong
5. Il n'est pire sourd...
6. Partie de cache cache en Ecosse
7. Dites-le avec des fleurs
8. Peche au goujon et chasse au requin
9. Trois valets et un as
10. L'Attentat
11. Opération Portefeuille

Books (in English)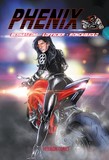 The Ace Brigade guest-stars in Phenix, available for sale in our Shop.